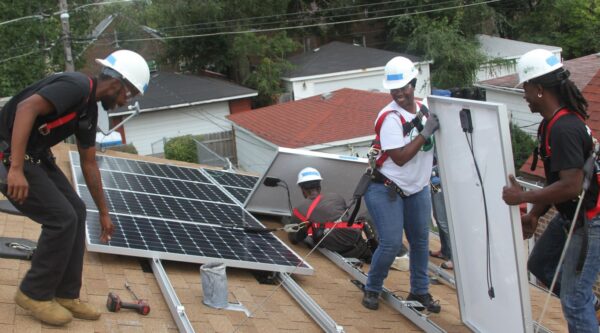 Helping Low-Income Residents in Illinois Benefit from Solar
The Illinois Solar for All Program (ILSFA) is a low-income solar incentive program made possible by the Future Energy Jobs Act, which was enacted to help strengthen the state's economy and move Illinois towards a clean energy future.
While the cost of solar is declining rapidly, it remains out of reach for many Illinois residents, and installing solar panels is not an option for renters and some owners. ILSFA will address these barriers by funding on-site and community solar projects that ensure no up-front costs and lead to measurable savings for low-income households and qualified non-profit and public facilities. In doing so, ILSFA will broaden access to the benefits of clean energy, including reduced energy bills, a cleaner environment, and solar energy jobs.
ILSFA Sub-Programs
| | | |
| --- | --- | --- |
| On-site solar for income-qualified residential properties | Solar incentives for non-profit agencies and public facilities | Community solar projects that provide subscriber access to low-income households |
Getting Involved
In anticipation of the full program launch in April, we want to make sure you are aware of this exciting program and the different ways you can participate.
Approved Vendor Registration
Learn how ILSFA is delivered through Approved Vendors who must meet requirements to ensure that participants properly receive the benefits of the program.
Grassroots Education
Are you an organization that can help provide outreach and education on the benefits of ILSFA? Learn more about the upcoming Request for Proposals and the funding available for organizations to educate their communities.
Job Training
See how ILSFA connects graduates from all qualified job training programs with Approved Vendors and installers.
Environmental Justice Communities
25% of all ILSFA incentives will target projects in or serving these communities. Learn how environmental justice communities were identified and use our interactive mapping tool to see which locations qualify.
Announcements
Stay up-to-date with program announcements here.
Upcoming Dates
February 15: Vendor Registration Application Training
Sign up here to learn how to apply to become an Approved Vendor.
February 19: Vendor Registration Begins
Find out more about becoming an Approved Vendor.
February 25: ILSFA Project and Participant Eligibility and Verification Processes Feedback Session
Register here to attend in person or via webinar.
Coming Soon: Grassroots Education RFP
Let us know you're interested and we'll make sure to send you the RFP when it's posted.